What's Next for Kevin Durant After OKC Thunder 2013 Playoff Exit?
Kevin Durant may have fallen short after the injury of Russell Westbrook, so how will he return in 2013-14?
Jamie Squire/Getty Images
Kevin Durant
's season of missed opportunity supports multiple truths that we already knew:
1. Even the most elite of superstars can't do it alone in today's
NBA
.
2. Scoring will never be valued ahead of winning.
3. Durant is still the second-best superstar.
That last detail may be too tart to digest for the league's sweetheart, considering how much the
Oklahoma City Thunder
's scorer is
"done with"
his runner-up baggage, as he said to
Sports Illustrated
.
But all that feel-good stuff for the 24-year-old, the one who seems like he's already been around for a decade, is ticking toward expiration.
Even if it's still wide open, the window for a title is inevitably closing, and this season proved Durant can't win without sidekick Russell Westbrook.
USA TODAY Sports
That's not harsh; that's the NBA. Excuses don't carry over in discussions decades later when Hall of Famers are ultimately judged by championships.
Durant dominated offensively in the postseason, averaging 31.8 points after Westbrook went down with a season-ending knee injury in the second game of the first round.
The box score looked fantastic. But so what?
He
didn
't succeed late in games when victories were absolutely available. In Games 3 and 4 of the Western Conference semifinals versus the
Memphis Grizzlies
, Durant combined to shoot just 3-of-17 from the field in both fourth quarters and in one overtime. Oklahoma City lost each game by six points.
Spare us all the "he was the only reason the Thunder were close" escapist harmony.
LeBron James
didn
't get that back in
Cleveland
.
Durant
didn
't come through. It was his moment to overcome the improbable in a way that creates all-time greats. Instead, Durant was awful at 5-of-21 in the Thunder's series-ending Game 5 loss. He had the opportunity to tie that game in the final seconds and missed.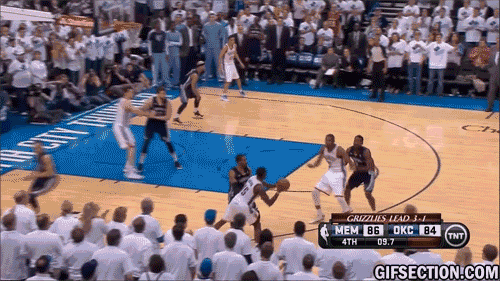 Durant misses in the final seconds of Game 5 vs. Memphis.
The league's No. 2 superstar could not return to even second-place without his second guy.
That's ultimately how his 2012-13 season will be remembered, like it or not.
2012-13 by the Numbers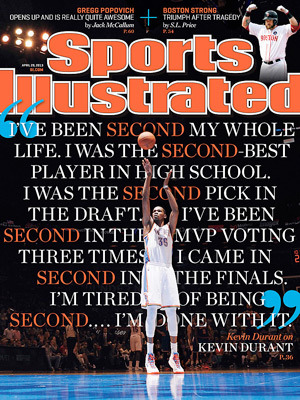 The season that ended too abruptly for the league's finest scorer also came with the end of three consecutive scoring titles. Durant finished with a scoring average of 28.1 points, just a
smidge
behind Anthony's 28.7-point average.
Other than that, it was buckets per usual for the 6'9" try-and-stop-this, box-score magician.He finished second in Most Valuable Player voting to James, receiving 93 out 121 second-place votes.
Durant
didn
't catch that elusive No. 1 spot, but he did claim the
second
-highest-scoring season of his career and balanced it with a career-high 4.6 assists, which by the way was
second
-highest for the Thunder.
Oklahoma City finished first in the Western
Conference
standings, and, yes,
second
overall behind the
Miami Heat
.
No championship yet, but Durant's postseason numbers were quite ridiculous despite his late-game failings versus Memphis. In 11 playoff games, he averaged 30.8 points, 9.0 rebounds and 6.3 assists in 44.1 minutes per game. As the singular focus of a thinned-out lineup, Durant still shot 45.5 percent.
What They're Saying
There's nothing wrong with being a good guy; there's no requirement that says winning a title is only accomplished by being a hardwood punk.
The "not nice" marketing campaign is relevant only to selling apparel.
Still, the clean image continues to follow Durant, even as he nicely barked a little during exit interviews after the Thunder's second-round exit.
Durant was asked if he felt the 2012-13 season was "wasted," a sentiment expressed once before by Godfather superstar
Kobe Bryant
after seasons that
didn
't end with a title.
I don't give a damn. I'm going to be who I'm going to be...I'm not Kobe Bryant. I'm not Michael Jordan. I'm not LeBron James. I'm not Magic Johnson. I'm me. I'm not ever going to compromise myself and my integrity and what I believe in for winning some basketball games or winning a championship. That's just not how I was brought up. I'm always going to fight for the game I love.

I'm going to claw until the last buzzer sounds and if I win a championship, of course I'll be happy. I'm not satisfied to be in this league and losing, I'm going to work as hard as I can to get to that mountaintop. I enjoy playing the game, I enjoy being here, but I'm never [sic] come out to the media and say I wasted a year because we lost a championship. Like I said, I don't have to be Kobe Bryant.
It's hard to decode what Durant is getting at when he says he won't compromise his integrity to win a championship. It's subtly insinuates that the guys he mentions did.
It would have been interesting to hear Durant expand on what exactly he meant, or perhaps the quote can simply be credited to misinterpreted thought.
Either way, what he's saying there
doesn
't add up with what he's already said.
Stock Watch
For Durant to say he
doesn
't "give a damn"? C'
mon
.
Of course Durant cares. He's the one who said he was tired of being second. He's the one who vocalized his distaste for being the second-best player out of high school, second in the NBA draft and second in MVP voting.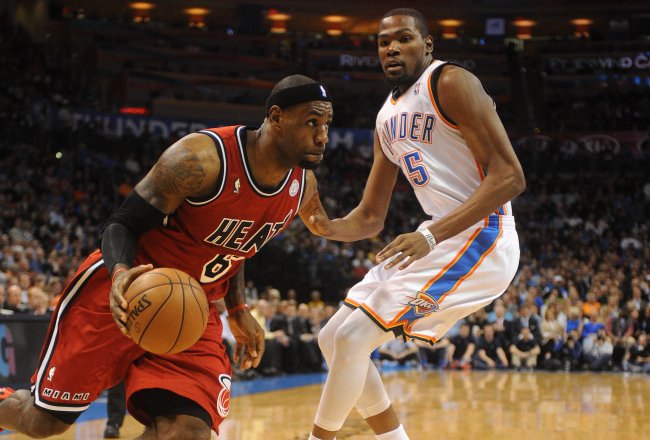 Durant remains second best to LeBron James.
USA TODAY Sports
He cares. And so do 99 percent of all NBA fans who qualify superstars against one another, past and present.
Even if Durant truly
doesn
't "give a damn," well fine; that
doesn
't mean the comparisons will cease. Expectations for the great ones will always be overly scrutinized.
Durant is awarded patience by popular opinion mostly because of his young age and a humble attitude that never guaranteed immediate championships.
Obviously Westbrook's injury led to a backward step after an early arrival last season.
Contract Situation
Durant signed a five-year deal for
$86 million
in the 2010 offseason that will carry him through the 2015-16 season.
Between Durant's paycheck and Westbrook's deal that extends through 2016-17, the Thunder have an
unshakeable
core—if not for further injuries—through at least the next three seasons.
By not tying up all its money with a third big-money contract for James Harden, the small-market franchise has left financial room to operate moving forward.
If the team can continue to stay in a healthy financial situation, it will only prolong Durant's window of winning a title. Durant and Westbrook are both 24 years old and Serge
Ibaka
is 23 years old.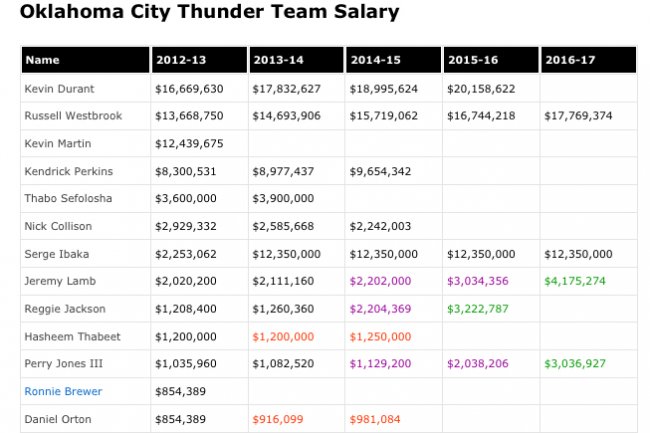 Hoopshype.com
Projected 2013-14 Stat Line
27.8 PPG / 8.3 RPG / 5.2 APG / 52

FG

% / 42 3PT%
Durant upped his assists to 6.3 in the postseason, a clear effect of guiding more Oklahoma City possessions without the presence of Westbrook.
Durant has already dropped hints that he would like to become more of a complete player in the NBA, and he showcased that in the postseason.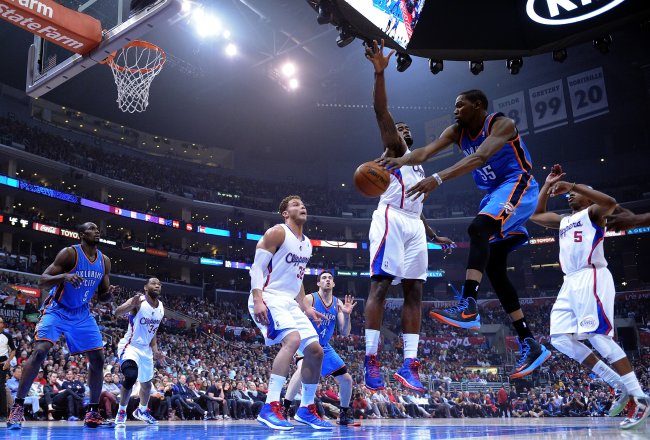 Durant is also becoming a better passer.
Harry How/Getty Images
"I can do a lot more," Durant during the conference semifinals. "It's always things you can do more. I talk to one of my good friends and he said no matter how good you're playing you always can do more.
"That's how I look at it. I just got to find ways to help them out and put them in great positions and continue to just be a vocal leader, a positive leader on the bench and every single time down the court and we'll be fine."
Durant's ability to create shots through his unmatchable length will always remain. His
true shooting percentage
of 64.7 percent this past regular season was the highest of his career.
As his scoring maintains, Durant will naturally shift defensive pressure away from teammates. As he develops a greater veteran lens, his ability to read defenses will naturally create added assists. His long body creates automatic passing lanes.
The Crystal Ball Says...
Durant talks about the Thunder's future in his exit interview after losing in the second round.
The pressure will begin to mount.
The wealth of an NBA franchise can spoil quickly and dramatically. Even the infallible can fall suddenly, as was the case when Westbrook went down.
Durant lost a season because of a teammate's injury.
The outpouring of love for Durant still exists, but the demand to win a title will eventually devour even the most adored superstar. He's already showing frustration in his role as the league's deputy MVP.
Will Kevin Durant ever surpass LeBron James as the league's best player?
If Durant and the Thunder fall short again next season, how long will the fickle sports world remain patient?
How long will Durant himself remain patient?
Durant will return for the 2013-14 with a heightened sense of urgency.
With a roster that will includes Westbrook and the potential of another scorer added in the offseason, the Thunder will return to the NBA Finals.
From there, Durant will have the chance to finally ascend to No. 1.